Regular readers have been asking for a FIRST PIANO LESSONS eBook for quite a while now. We've got lots of posts and resources on the site already, but for extra EXCLUSIVE, NEW content and your ease of use and convenience we have brought it all together – along with plenty of  PRINTABLE RESOURCES for practice support and lesson plans.
The First Piano Lessons eBook is now available in Spanish! Find out more here.
FIRST PIANO LESSONS eBOOK
 * Step by step guide on how to introduce basic piano skills for young beginners*
*Tried and tested popular and effective games and activities*
*Compiled for easy use and convenience*
*Lots of printable resources and flashcards*
*Extra exclusive content to support lessons and practice*
*Fun and friendly way to build a firm foundation and lasting love of the piano*
Buy it now worldwide for instant download for $12.99
What's Inside The First Piano Lesson eBook?
Chapter List
Some Tips: Before You Get Going
How to Get Started
The Easiest Way to Learn the Notes
Introducing the Note Family
Fingers and Fingering
Looking at the Music
Motivation: Practice Makes Perfect!
How to Plan a Beginner's Lesson
Useful Resources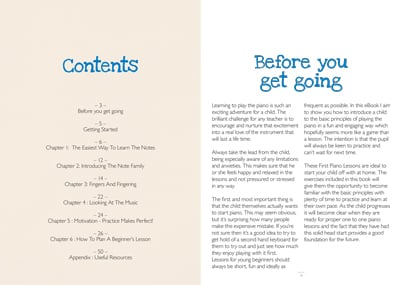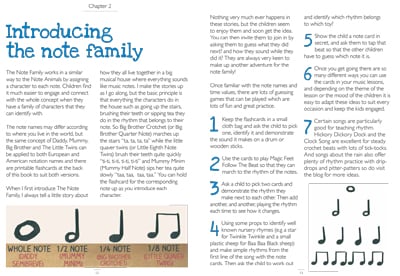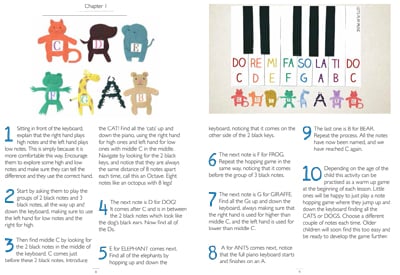 Plus…

Printables and Worksheets Included:
Animal Note Piano Keys
Blank Piano Keyboard
A5 Note Family Cards (US Note Names and European Note Names)
Small Music Notation Flash Cards
The Clock Song Piano Music
The Clock Song Worksheet
Finger Strengthening Exercise Poster: Up & Down The Escalator
Finger Strengthening Exercise Poster: Candyfloss
Birthday Cake Music Notation Game
Sliding Semitone Snakes
Spot the Frog
The Dice Game Practice Chart
Tips for downloading
You can buy this e-book anywhere in the world. Payment is via PayPal, which takes care of any currency conversion for you.
The FIRST PIANO LESSONS eBook is a digital download, which means it is a digital book which will be delivered to you as a PDF. You do not need a Kindle to be able to read it.
You can buy it now on any device and then download at your convenience. Depending on the apps you have installed and your operating system you might be able to go ahead and download the book on your mobile device, but if you have any doubts or problems, it is recommended that you use a computer to download the book and then share it to your mobile devices. You can read the book on screen or print it off. You can print the whole book, or just the printable resources at the back as and when you need them.
Here's some feedback from satisfied readers and teachers!
"I purchased your first piano lessons and love it. I also purchased Chester's easiest piano course. Didn't you have other suggestions for piano courses? I use Faber Series, but I like your book better and love Chester's."
"Thank you so much! I really appreciate your site. It's been a wonderful resource for me as a music teacher."
"I am a mother of a 4.5 year old boy, recently considering putting my son into piano lessons. I embrace the idea of playing for fun and being a happy piano learner. Your lessons and instructions are quite mind-blowing and inspiring."
Get musical inspiration into your inbox!
Receive updates from Let's Play Music straight into your inbox!