With small children, Valentine's Day is all about friendship, and this Valentine's Day Lesson Plan is a great way to encourage children to value their friends. It's lovely to encourage open expression of affection for our nearest and dearest, and these simple songs and activities make it easier for them to understand.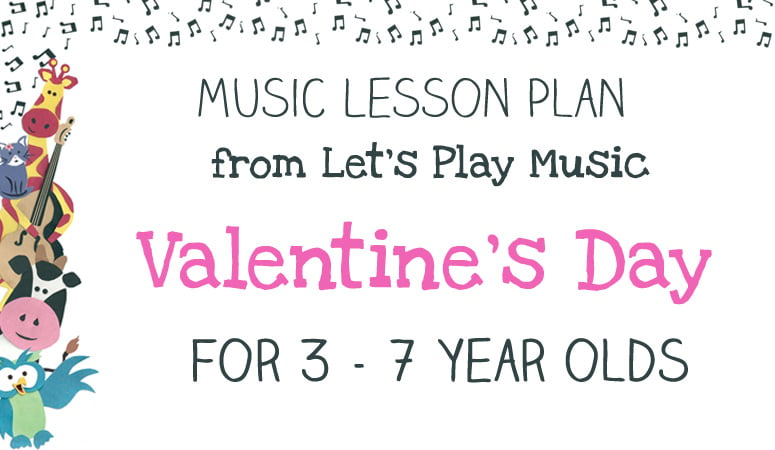 The Valentine's Day music lesson plan introduces:
Practicing So-Mi-La with chime bars or resonator bells
Playing a variety of percussion instruments, recognising the steady beat and the rhythm.
Listening skills, remembering patterns and note recognition.
Singing together and speech development.
Rhythmic movement and motor skills
Social skills – working in a group, following instructions and building confidence
Movement to music
This lesson is suitable for children from 3 – 7 years  and should take around 30 mins, but many of the activities can be used again separately whenever you need a short musical activity at any other time for a bit of lively movement or at circle time.  There's plenty of opportunity for lots of interaction so it's great for playgroups, reception classes and parties.
The Valentine's Day lesson plan is 14 pages long, and can be downloaded by visiting our store or click below.
These plans are not intended to read as a script, as everyone will have their own teaching style. More, I hope that they will provide you with in-depth guidance for a number of related activities that I have found in my years of teaching to be particularly effective and engaging combinations.
Here's what people are saying about the Lesson Plan series!
"I downloaded the clocks and mice lesson plan and LOVED it. I'd like to start a music program in my classroom based on your lessons. I'd love to buy 30-40 lessons from you to fill up an entire school year if I could!"
"I am starting my first preschool music class next week and I need your website! :)"
"Thanks so much for all your hard work on this website and in putting together such great activities and lessons. I have been following the first piano lessons and easy pieces for the last couple of months with my six and four year old. I learnt oboe for seven years and my piano is pretty basic but these lessons have been so easy and fun to follow…and teach!"
Get musical inspiration into your inbox!
Receive updates from Let's Play Music straight into your inbox!