Children love stories and reading books together is one of the best things you can do for development.Stories can be launch pads for improvisation and exploration of sounds and rhythms.  Therefore, using stories with Classical music and movement takes those benefits to another level.
The music helps to set the mood rather like a good film soundtrack. Most of all, it is wonderful for imagination and inspiring creativity.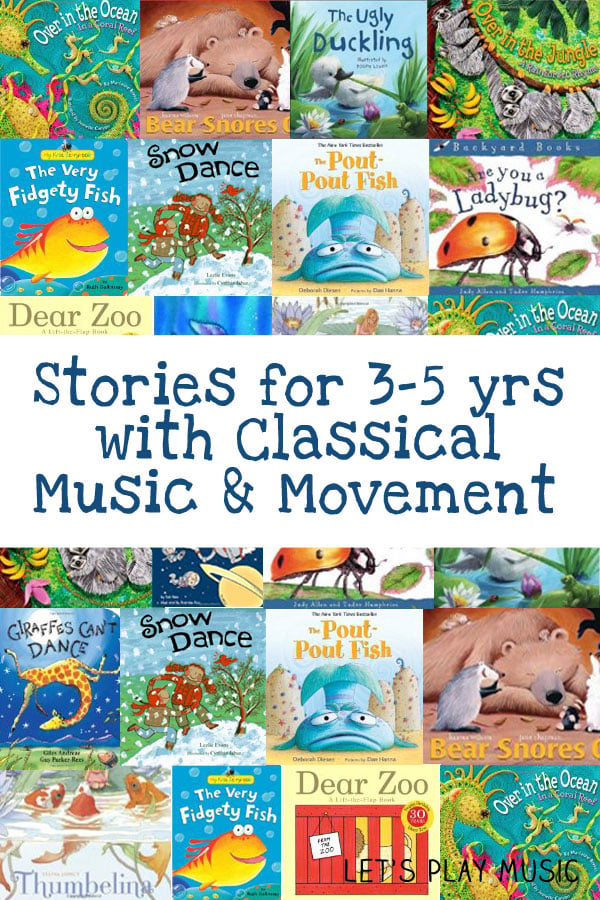 How to use this Classical music and movement with stories post
The links below take you to suggested books and a paired piece of music. Most of the tracks are Classical but in some cases other genres have slipped in! My favourite resources for researching classical music and movement activities are YouTube and Spotify because they suggest similar alternatives within genres.
People often ask what equipment I use for playing musical excerpts in music lessons. Of course if  you have the original CDs you can play them with a conventional music player using a remote control for stopping and starting.
But these days the easiest way is to play them straight from youtube by using your phone or ipad and some handy bluetooth speakers. Here are two really good choices; I'd recommend the Anker Soundcore for use in an average sized room, but these JBL Flip 4 speakers pack a bit more of punch if you're in a bigger space.
Read the book together and then suggest that the children pretend to be one of the characters. You could ask them to imagine themselves in that different world. It's a good idea to discuss the ideas together first to help them get started but they'll soon catch on.
The Best Stories for Classical Music and Movement
Owl Moon. Owl Moon is a lovely story about a little girl and her father who go out into a wood to search for an owl at night. This would work really well with some night time music like the Harry Potter theme tune because of the mysterious mood.
Bears Snores
. Bear Snores is about a sleeping brown bear who snores on in his dark cave. While he is asleep he is gradually joined by other animals from the forest who come in to shelter. This one would be great to act out with the children pretending to be the different animals. I've chosen
Pachelbel's Canon In D
because it has a steady ostinato (a repetitive phrase) which is the almost the same as the steady breathing of the sleeping bear.
We're Going On a Bear Hunt
. We're Going on a Bear Hunt is such a wonderful book. The original
Teddy Bears' Picnic
 by Henry Hall is the perfect track for an expedition into the woods!
There are so many wonderful stories about fairies, everyone will have their own favourite. One of mine is 
How To Find Flower Fairies
, a pop up book with the most beautiful pictures. And any fairy story goes perfectly with
The Sugar Plum Fairy, 
from Tchaikovsky's Nutcracker.
The Very Busy Spider
. The Very Busy Spider is a wonderful story about the industrious spider building her nest. The children could pretend to be little spiders spinning webs to 
Vivaldi's concerto for four harpsichords
.
Buzzy The Bumblebee
 is a book with beautiful images and a wonderful message about keeping a positive attitude. Children will love pretending to be buzzy bees to
Rimsky Korsakov's The Flight Of The Bumblebee
.
These three fishy tales are perfect to accompany
The Aquarium from The Carnival of the Animals
. Either of the books will do, but all three is an added bonus. 
Very Fidgety Fish
 is an imaginative book that kids love to hear again and again. 
The Rainbow Fish
 is about a fish who finds happiness from sharing his shimmering scales with all of his friends. And finally
 Over In The Ocean
 is a lively rhyme with lots of verses and actions all about the different fish in the sea.
The Ugly Duckling
 has been a favourite for generations. Children love acting out the story of the duckling's transformation into the beautiful swan. What could be more perfect for this than the
 The Swan from Carnival Of The Animals.
If you'd like musical movement activities for the rest of the Carnival Of The Animals check out my Carnival of the Animals Teaching Bundle!
Over in the Jungle
 is another from the series of popular books by Marianne Berkes. It teaches all about habitat and who you can expect to find in the jungle. Below is a link to some
authentic tribal African music and chants
, which would be a great accompaniment.
The Story Of The Snow Children 
is a wintery tale about a little girl who gets magically transported to the Snow Queen's frozen kingdom. The
Trepak from The Nutcracker Suite
sets suitably icy scene for children to become magical snow flakes in addition to setting a chilly mood.
Finally, 
Chugga Chugga Choo Choo
 and
Freight Train
 are perfect for little train enthusiasts. These pieces delight with lots of sound effects and are also great for teaching children about the different variations between fast and slow. Whenever we want to pretend to be trains I always play either the
old traditional Puffin Billy
or if we fancy something with a bit of swing,
Chatanooga Choo Choo
 by Glenn Miller.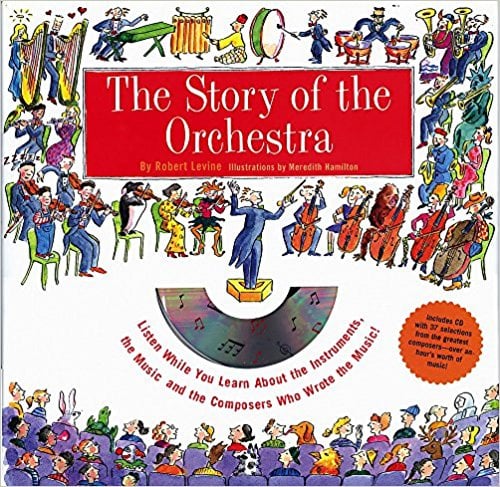 Story of the Orchestra : Listen While You Learn About the Instruments, the Music and the Composers Who Wrote the Music!  This is a great resource for anyone wanting to introduce children to the world of Classical music. Composers and instruments brought to life in a kid friendly way.
For more ideas about getting creative with music and activities to encourage engagement with Classical music and movement, take a look at:
Get musical inspiration into your inbox!
Receive updates from Let's Play Music straight into your inbox!