Babies and toddlers always love their teddys, so these 3 teddy bear songs are sure to go down well!
Walky Round The Garden is one of the best known finger plays because even very young babies love a tickle! It's always a popular one at changing time and can be sung to this simple tune below or just recited.
Traditionally, you trace a little circle in the palm of the child's hand as you recite the words. Then you take two steps up the arm and right up to the arm pit for the tickle! And that'll just get you started!
Walky Round The Garden
Like A Teddy Bear
One step, two steps,
Tickley under there!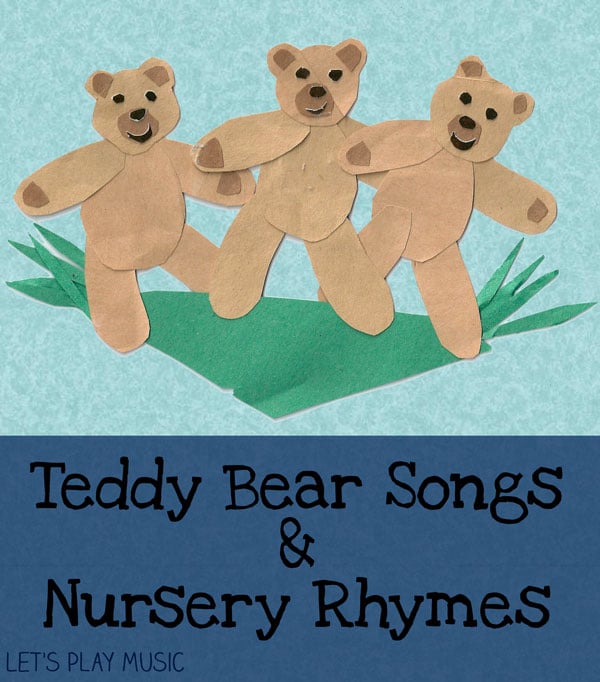 Under Teddy's Jumper
Under teddy's Jumper is such a cute little rhyme and another one that comes in handy at changing time!  Especially as every little teddy has a button under their vest that goes squeak, squeak!
Under Teddy's jumper,
Under Teddy's vest,
There's a little button,
Just waiting to be pressed
Lift up Teddy's Jumper,
Take a little peak,
And press the little button,
It goes squeak! squeak! squeak!
Teddy Bear, Teddy Bear, Turn Around
This is probably the easiest of the Teddy bear songs. The tune is so simple and repetitive tune and the small range is perfect for little ones to pick up and sing easily. If you have some chime bars or a xylophone, this is such a simple song to play – (see the video above.)
It's also an excellent way to learn the intervals So- Mi-La  and Do. The actions of the song can either be mimed by the child, or you can make a Teddy Bear do the actions as you sing the song together. Check out the video below for some more verses.
Teddy bear, Teddy bear, turn around,
Teddy bear, Teddy bear, touch the ground.
*
Teddy bear, Teddy bear, tie your shoes,
Teddy bear, Teddy bear, that will do!
*
Teddy bear, Teddy bear go upstairs,
Teddy Bear, Teddy bear, say your prayers,
*
Teddy bear, Teddy bear, turn out the light,
Teddy bear, Teddy bear, say good-night! 
To round off the Teddy theme, there is an enchanting book entitled Can't You Sleep Little Bear? This is the perfect bedtime story, for all little bears who are sometimes a little afraid of the dark. It has such beautiful illustrations, and is such a warm and comforting book, that it should be in every child's collection.
Don't forget to sing and march around to the original recording of The Teddy Bear's Picnic!  The oldies are always the best!
Check out our Bears lesson plan for lots more lovely teddy-bear themed activities combined in a 30 min structured lesson, with step by step teaching notes and supporting resources.
If you enjoyed this post, come and join us on Facebook, Pinterest or Subscribe  for many more musical ideas!
Get musical inspiration into your inbox!
Receive updates from Let's Play Music straight into your inbox!