Our Five Senses Songs are a great way to introduce this concept to young children as they explore each sense with a song or a game.
They're great for expanding young vocabularies and good for building the confidence to try new things. So much can be gained from sharing new experiences together.
Five Senses Songs – Smell
First we look at the sense of smell with a funny little song called 'How Does A Red Rose Smell'?  We've included 6 easy verses, but once kids get the idea, they're only too happy to come up with their own suggestions – and they tend to like the 'pongy' ones the best of course!!
Five Senses Songs – Listening
This is a great way to encourage kids to really listen carefully and describe what they can hear. So it's a great way to encourage engagement and increase the vocabulary. Visit the post for details of how to play the game and sing the little song.
Five Senses Songs – Sight
Check out the post for the lyrics and melody, this song is so useful as it can be used to fit in with lots of different themes. kids can't resist 'peeping through the windows'!
Five Senses Songs – Touch
The Autumn Treasure  guessing song can be used to fit with any theme, not just for autumn – but autumn is such a great time of year for finding interesting treasures! Check out the post for full details of the song and listening game.
Five Senses Songs – Taste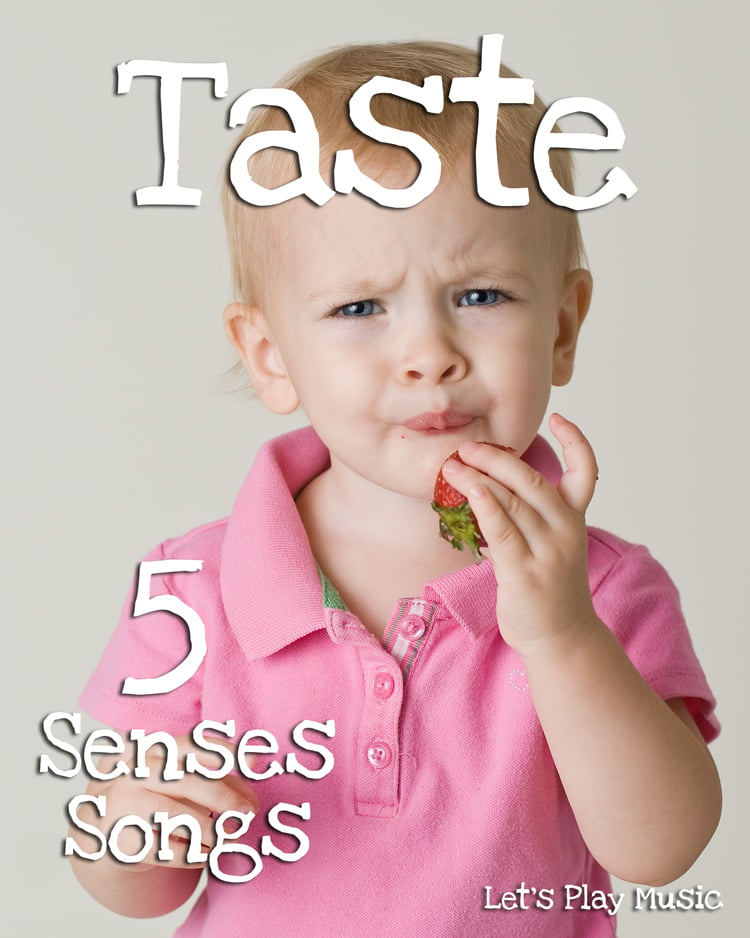 This tasting song is such a lot of fun and kids love it, but do be careful to check for any allergies first!
And here's a very simple song which is about all of the 5 senses together.
Get musical inspiration into your inbox!
Receive updates from Let's Play Music straight into your inbox!